Do you Know? What happens If you don't have time to top up?
Don't worry! We've got you covered. Every Service Providers in Malaysia has provided a certain duration of suspension "Grace Period" before you account being deactivated.
IT' S NOT TOO LATE. Here is the information on the duration of suspension for every carrier in Malaysia.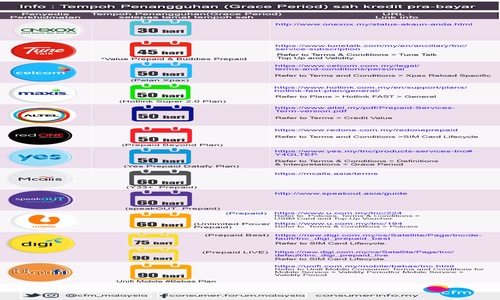 TOP UP NOW BEFORE IT IS TOO LATE!
XOX : http://corporate.xox.com.my/support/terms-and-conditions/
Tune Talk : http://www.tunetalk.com/my/en/ancillary/tnc/service-subscription
Celcom : https://www.xpax.com.my/xpax-tnc
Maxis : https://www.hotlink.com.my/en/tnc/plan-services/hotlink-fast-plan.html
Altel : http://www.altel.my/terms-conditions/prepaid-service-terms/
REDONE : https://www.redone.com.my/redoneprepaid
Yes : https://www.yes.my/tnc/products-services-tnc#Y4GLTEP.
Mcalls : https://mcalls.asia/terms
SpeakOUT : http://www.speakout.asia/guide
Umobile : https://www.u.com.my/tnc/224
: https://www.u.com.my/tnc/194
Digi : http://new.digi.com.my/Page/tnc/default/tnc_prepaid_plans
Unifi Mobile : https://unifi.com.my/mobile/bebas/tnc.html
* * *
Share this post if you liked it and follow us on Facebook, Twitter, and Instagram to stay up to date with the latest tips on Communications & Multimedia.
~consumerinfo.my :: another website by Communications & Multimedia Consumer Forum of Malaysia (CFM)~