~Whether it's to manage personal accounts better, or to up your marketing game, be familiar with these time-saving hacks to optimize social media usage.~
CREATE A COLLECTION OF YOUR FAVOURITE IMAGES ON INSTAGRAM 
If you have saved a lot of images on Instagram, it's a good idea to avoid the visually appealing clutter by saving photos in specific folders. On your profile, click the bookmark tab (the top-right tab above your photos) to view saved images.
Then click "Collections" tab and start creating your folder. To move saved pictures to the designated folder, simply click "Add to Collection". Now instead of having to scroll through your saved photos, you can stack them in specific categories like "Food" or "Favourite places".
USE INSTAGRAM FILTERS WITHOUT POSTING ANY PHOTOS
If you already have your favourite Instagram filters, perhaps you knew that you can't apply a filter without having to post the photo. Luckily, if you want to use Instagram merely for the filters but are not ready to post the photo yet, you can just publish it while your phone is on airplane mode. But make sure that you have turned on the "Save Original Photo" in your settings.
 So now, turn on your airplane mode, and like you normally do on Instagram, upload the photo, edit it and click "Share". The upload will fail, but the edited photo will be in your phone's gallery.
  BLOCK WORDS THAT DAMAGE YOUR REPUTATION ON FACEBOOK
If you run a Facebook page and want to get rid of some terrible haters, you can banthe comments that use specific negative words. In your Page Settings, go to "Page Moderation" and add words that you want to ban from your page like "unfollowing" or "unlike". When a banned word is used, the comment will be hidden from the general public, but still visible to the person who commented and his/her friends. Although it doesn't ban the comment entirely, at least you can reduce the negative vibes.

HANDLE THE TROLLS LIKE A PRO
If a comment on your Facebook page doesn't contain any banned words but you would like to delete it, the best way is to use the hide option. Deleting comments will only trigger the trolls to comment even more. By hiding it, only the trolls and their followers can see the comment, but the public won't. You can simply do so by clicking at the top-right corner on the trolls' comment.
TORN BETWEEN TWO SNAPCHAT POST-CAPTURE FILTERS ON A SNAP?
USE BOTH!
If you want your snap to look extra vibrant and use filters like the temperature and geotag at the same time, simply swipe to add one filter. Next, while holding down one finger on your screen, slide another finger to add another filter. Now your snaps tell more stories than ever.
  GET OVER THE 140-WORD LIMIT ON TWITTER
Long-winded stories can still be conveyed on Twitter by using a chain of tweets, or thread. All you have to do is reply to your own tweet, but make sure to remove the "@" mention to your name so you don't look like you are talking to yourself. To keep the readers' eyes on your tweets, end each tweet with some kind of teasers, like an ellipsis or a cliffhanger. After this, readers who see the first tweet or any tweet in the chain can read the full story by simply clicking "View Conversation" option. This tip comes in really handy when you need to elaborate on an issue.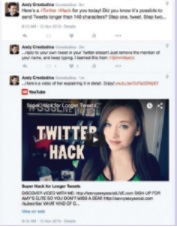 Source : SHOUT Q3, 2017, consumerinfo.my #CFMarticle  #CFMmalaysia  #ICYMI #CFMshout2017 #socialmedia #socialmediahacks #tips
~consumerinfo.my :: another website by Communications & Multimedia Consumer Forum of Malaysia(CFM)~